One of the advantages of shopping at The Bride's Closet is the fact that we do all our own alterations in store.  We take responsibility for the final fit and look of the gown.
As the owner of The Bride's Closet, I feel it is essential to be knowledgeable about the construction of a wedding gown and be aware of the possibilities for altering a gown to the dress of your dreams. 
I have been sewing since I was 6 years old and made my own grad dress and wedding gown.  I have been in the bridal business doing alterations for over 25 years and take great pride in the extremely high quality alterations that are done here.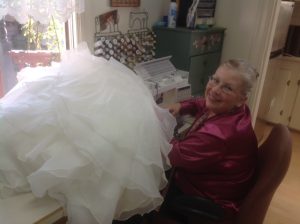 Meet our head seamstress Ruth. She is at the boutique on a daily basis for consultations and last minute jobs. Ruth has been with us since 2006 and is an expert at what she does. Brides often comment that they cannot tell that any alterations were done to their gown and yet it now fits perfectly. This is how properly done alterations should be.

We are very creative with lots of ideas to personalize your gown and customize it to the perfect gown for you to walk down the aisle feeling confident that you are looking your absolute best!
We look forward to meeting each and every one of you and helping you to find the perfect dress with the perfect fit to match!
Best Regards
Fern